Skip to Content
Symptoms of Periodontal Disease in Dogs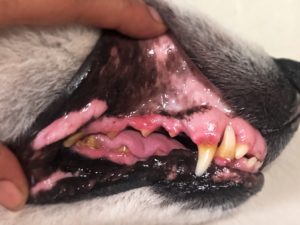 Many dog owners don't know this, but periodontal disease is one of the most common diseases in dogs. Also known as gum disease, this condition is an inflammation of a tooth's deep supporting structures. Periodontal disease is typically silent: it starts with no symptoms or outward signs. Once it takes hold, though, it can be devastating for a dog's mouth. Untreated periodontal disease can cause chronic pain, eroded gums, missing teeth, and bone loss. Fortunately, it's not just treatable, it's preventable.
What causes gum disease in dogs? When food particles and bacteria accumulate along the gum line, plaque can form. Once that plaque combines with saliva and minerals, it hardens into dental calculus, known as tartar. This causes the gums to become inflamed, leading to a condition called gingivitis- an early stage of periodontal disease.
When periodontal disease begins to present symptoms, it's typically with inflammation in one tooth. This can progress if it's not treated, eventually leading to tooth loss, bone loss, and even heart, liver, and kidney disease. If it's allowed to reach a severe stage, a dog may exhibit the following symptoms:
Problems picking up food
Bleeding or red gums
Loose teeth
Bleeding into the water bowl or on chew toys
Bad breath
"Talking" or making noises when eating or yawning
Bumps or lumps in the mouth
Bloody or ropey saliva
Not wanting the head touched
Chewing on one side of the mouth
Sneezing or nasal discharge due to decay of the bone between the nasal and oral cavities
How can periodontal disease be prevented? There are some steps you can take to keep periodontal disease at bay.
Brush your dog's teeth. Dogs' teeth should be brushed twice a day, just like humans.
Feed your dog with high-quality food. Dental diets benefit some dogs, with kibble that helps scrub their teeth or food with additives that prevent plaque from hardening.
Schedule regular oral exams and cleanings. Comprehensive dental exams, with x-rays and cleanings, under general anesthesia, will keep you abreast of what's happening in your dog's mouth.
Offer safe toys and treats. Giving your dog tooth-friendly things to chew every day will help prevent gum disease.
Reed Animal Hospital offers non-anesthetic cleaning as a preventive measure. It may not always be a primary treatment for predental disease, but as any adjunct it can be very successful.
When your dog needs a dental exam, you can trust Reed Animal Hospital to care for his teeth as if he were our own dog. Our goal is to help you and your pet enjoy a healthy, fulfilling life together, and in pursuit of that goal, our extraordinary team offers a wide range of services. We've got veterinarians, technicians, assistants, and receptionists, all prepared to help you and your pet, and we even offer referrals to specialty surgeons, many of whom will travel to our office to consult with your pet. For more information or to make an appointment, call us in Campbell at 408. 369. 1788, or in Saratoga at 408.647.2906, or contact us through our website.