Skip to Content
Puppy and Kitten Packages
Puppy and Kitten Care Packages
Protect Your Pet at an Early Age in Campbell and Saratoga
Congratulations on the newest addition to your family! Here at Reed Animal Hospital, we are dedicated to giving your furry friend the healthiest start possible. Early visits with your new pet will focus on monitoring their growth, evaluating any congenital problems, and treating any parasites.
We recommend having your kitten tested for Feline Leukemia and Feline Aids at your earliest visits, especially if there are other cats in your household.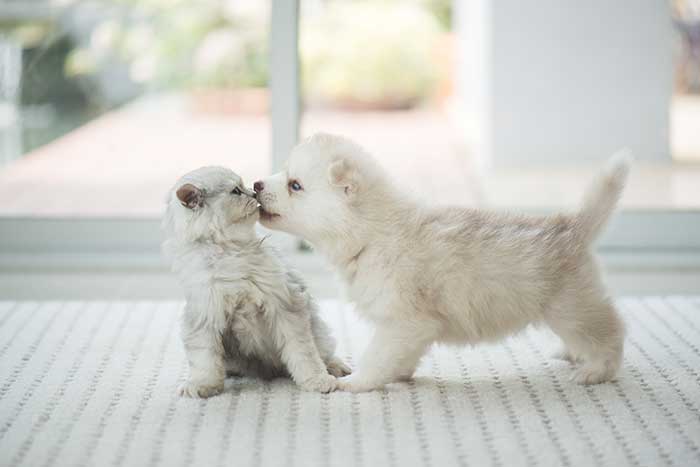 Critical Growth Period
Remember during this critical growth period your puppy or kitten is very susceptible to parasites and diseases. Never place your puppy or kitten on the ground or places where other animals have been (parks, pet stores, playgrounds, etc.) until they are fully vaccinated.
Our doctors are very knowledgeable regarding puppy and kitten nutrition, safety, and behavioral problems, so please feel free to ask them any questions you may have. We are so excited to be a part of your new pet's wellness plan!
Puppy and kitten packages are discounted to get each new pet off to a healthy start! Learn more about your new furry family members wellness and development.
Our Puppy/Kitten Package Includes the Following
2 Wellness Exams
A complete round of Vaccines
Stool exams
Dewormings
Nutritional advice
10% off Spay/Neuter Included with Puppy & Kitten Package
In addition to our puppy/kitten package, we highly suggest microchipping your young pets as well. Microchipping is a safe, simple way to greatly increase the chance of reuniting with a lost pet. Each tiny microchip is encoded with your contact information and implanted between your pet's shoulders in a painless and anesthesia-free procedure. Any pet can be microchipped for the low cost of $72.50.
Testimonial
"We just took our French Bulldog puppy, Boone, here last week for his first vet visit as his new mommy and daddy… Dr. Reed explained all about having a puppy, normal things we should look for, etc. He even gave us his cell phone number and told us that we could text him if we had any random questions or concerns that might come up…he took the time to get to know us and our puppy, which I thought was really nice."
-Rachel P.
We Treat Your Pet as if They Were Our Own