Skip to Content
Veterinary House Calls in Campbell & Saratoga
Veterinarian House Calls Surrounding Saratoga & Campbell, CA
We Bring the Vet to Your Home
Even when you choose a veterinary clinic with a caring and compassionate staff to care for your pet as one of their own, a trip to the vet's office can be a stressful event for your cat or dog. With Reed Animal Hospital, you can reduce stress on your pet with care in the comfort of home through our house call services. Our Campbell and Saratoga veterinary clinics not only provide emergency services with complete canine and feline care in our office, but we can also come to you for an in-home regular veterinary service to save you and your pet from the anxiety of a drive to one of our clinics.
House Call Services
Driving an anxious pet through California traffic can be stressful for both you and the cat or dog. Plus, busy workday schedules can prevent you from reserving enough time to schedule routine veterinary visits in the traditional office setting. Reed Animal Hospital's mobile veterinary call service can resolve these issues and prevent undue anxiety that could have negative outcomes for your pet. If, for example, you have a dog that is not highly sociable with other animals, the setting of the vet's office could cause aggression and even lead to an unwanted interaction with another dog. At home, the dog will be relaxed and at ease for a more pleasant and productive visit. Below, you can see which mobile services are ideal for house calls from our doctors.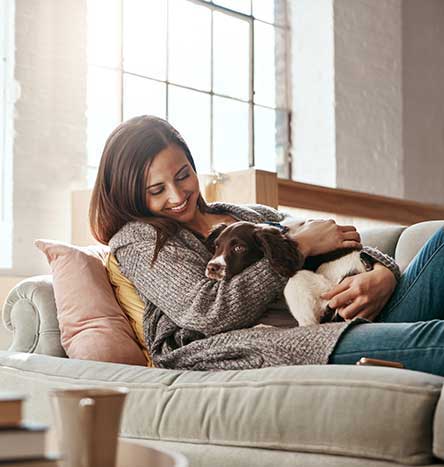 Routine Checkups
Just like people, dogs and cats need annual checkups to ensure good health in every stage of life. Scheduling these checkups with an in-home call can be beneficial since the vet will get to see the pet's environment and make recommendations for healthy changes if needed.
Vaccinations
Vaccinations are a crucial component of preventive veterinary care, but giving a shot to a cat or dog can be an ordeal. In the comfort of home, your pet may remain calmer during vaccinations.
End of Life Care
Saying goodbye to a pet is never easy, though you may have more closure and comfort in letting your pet go at home rather than in the office. Choosing to have an end of life care at home can also minimize any stress for pets who are immobilized by injuries or illnesses.
How to Set Up a House Call for Your Pet
With Reed Animal Hospital, setting up a house call is just as simple as making a regular appointment in our office. Simply call 408-369-1788 to make your appointment and provide the necessary directions and details to our staff. Emergency care is not available through house calls, and house call visits are subject to additional fees.
We Treat Your Pet as if They Were Our Own